We recently donated 9 refurbished laptops to Sperrinview Special School.
Ryan our Environmental, Sustainability and Governance Officer dropped off the laptops which were previously used by our Splicing Team.
We are delighted they have found a great new home!
Recently some of our Viberoptix colleagues volunteered for 'Time to Read' hosted by 
Business in the Community Northern Ireland
.
'Time to read' is a literacy programme to foster a love of reading ,build confidence and social skills of children in local primary schools.📘🤓
📸Joanne, Aimee, Patrice and Nicole attended their celebratory event today at W5 Belfast.
💚Mental Health week 💚
Our NI and GB staff got their steps up for our May walking challenge.
This was chance for our staff to get some fresh air and chat over a coffee which coincided with Mental Health week.
"Mental health is just as important as physical health, make it a priority." 🧠
Last Friday Viberoptix colleagues Cathair and Michael kindly donated reels to Rascals Community Playgroup, Gortin.
We are happy to see our used products find a new home in the local community. Too cute not to share 🍃 😊
We are honoured to be shortlisted and good luck to all finalists👏
A special thanks to Dr Amanda M. L. Taylor (-Beswick), Director – Centre for Digital Transformation, for facilitating a visit by our HR Director Claire to the campus recently.
We look forward to welcoming Graduate and Placement Students to Viberoptix for roles across Cumbria.
We are delighted to have been Highly Commended at the Belfast Telegraph Business Awards for Best Large Company. The Awards ceremony took place on Thursday 27th April 2023.
We are extremely proud of our all our teams who contribute daily to building fibre broadband networks to connect communities across Northern Ireland and Cumbria.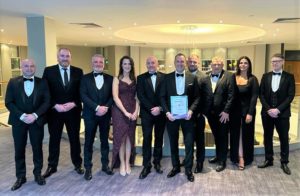 On Friday 28th April 2023 we attended the Skills and Careers Fair at Whitehaven Civic Hall. This was a great opportunity to share our new opportunities in Penrith and across Cumbria in the telecoms sector.
Pictured is Peter our Splicing Supervisor and Emily our HR Officer.
Friday feels
Cumbria provides a beautiful backdrop for our teams who are building the rural fibre network there!
Owen our Field Planning Supervisor at Martindale.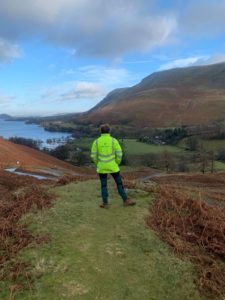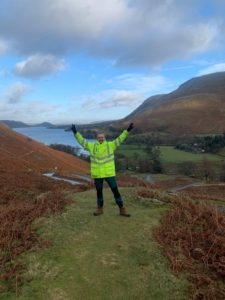 Viberoptix colleagues Bronagh, Emma and Niamh along with their brilliant wee helper John
Over the Easter break they helped to plant flower boxes at
Derrylaughan Kevin Barrys GAC
Walkway, which is a much used beautiful path along the shores of Lough Neagh